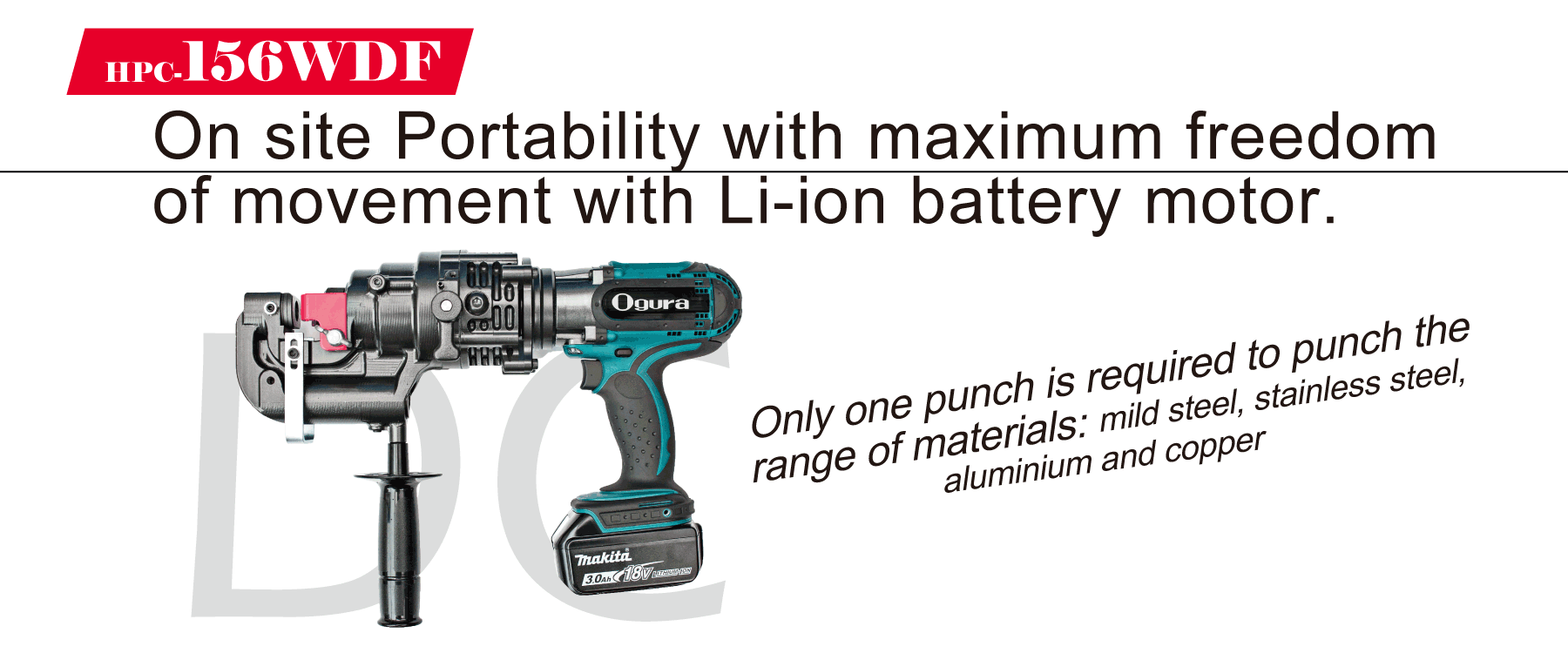 - On site portability for maximum freedom of movement with Li-ion battery motor.
- New punch design makes it easier to cnfirm the hole position.
- "Double acting" hydraulic return for jam free operation.
- Hole puncher is specifically designed to provide high quality holes quickly and efficiently.
- Maximum hole size: φ15 ⁄ t6mm (stainless steel)
The HPC-156W is double acting and have a new designed punch holder for longer life. The punch is also redesigned so that only one punch is required to punch the range of materials: mild steel, stainless steel, aluminium and copper. The center of the punch has been made wider for easier positioning.

- Both punching and retracting are completed by hydraulic power. This solves the "punch jammed" problem and allows faster work at the site.
- As a result of reviewing the basic structure of the tool from the user's point of view, we changed the design of the die, punch & punch holder to make them more durable and to make the setting of the punch & die easier.
- Only one die for flat bar and angle steel.
※Thinner material (t2-3.2mm) may have some burrs or deformation.
※ Use die C for Channel.
Motor
18V DC
Weight
7.9 kg / 17.4 lbs
Dimensions
391 (L) x 115 (W) x 293 (H) mm
15.39 x 4.53 x 11.54 in
Max. Throat Depth
25 mm / 0.98 in
Hole Shape
Round / Oblong
Max. Hole Size
Mild steel (65,000 psi): Φ15/t6 mm
Stainless steel (89,000 psi): Φ15/t6 mm
Standard Accessories
punch Φ12 mm, die SB12, tommy bar, spanner (8 × 10 mm), hex wrenches, hydraulic oil, carrying case, grip, strap, battery & charger
Option
work stand
OTHER INFORMATION
HPC-156WDF
■Materials Dimensions [unit: mm]

Flat Bar

Max. 50 x t6
(center punching)

Angle Steel

Min. 30 x 30 x t3
Max. 50 x 50 x t6

Channel Flange

Min. 75 x 40
Max. 100 x 50

■Punching Throat [unit: mm]

A: 7

B: 25

C: 13

D: 45

E: 64

F: 37
Punch & Die TABLE
HPC-156WDF
■Round Punch & Die [unit: mm]
Round Punch
Round Die
Mild Steel
Aluminium
Copper
Stainless Steel
Channel Flange
4
4A
t2
t2 - t3
-
-
5
5A
t2〜t3
t2〜t4
-
-
5.5
5.5A
t2〜t3
t2〜t4
-
-
6
6A
t2〜t4
t2〜t5
-
-
6.5
SB6.5
t2〜t6
t2〜t6
t3〜t4
-
8
SB8
t2〜t6
t2〜t6
t3〜t4
-
8.5
SB8.5
t2〜t6
t2〜t6
t3〜t4
-
10
※SB10
t2〜t6
t2〜t6
t3〜t4
t7.5
11
※SB11
t2〜t6
t2〜t6
t3〜t6
t7.5
12
※SB12
t2〜t6
t2〜t6
t3〜t6
t7.5
13
※SB13
t2〜t6
t2〜t6
t3〜t6
t7.5
14
※SB14
t2〜t6
t2〜t6
t3〜t6
t7.5
15
※SB15
t2〜t6
t2〜t6
t3〜t6
t7.5
※ Use die C for Channel.

■Oblong Punch & Die [unit: mm]
Oblong Punch
Oblong Die
Mild Steel
Aluminium
Copper
Stainless Steel
6.5×10
6.5×10B
t2〜t6
t3〜t6
t3〜t4
6.5×13
6.5×13B
t2〜t6
t3〜t6
t3〜t4
8.5×13
8.5×13B
t2〜t6
t3〜t6
t3〜t4
9×13.5
9×13.5B
t2〜t6
t3〜t6
t3〜t4
10×15
10×15B
t2〜t6
t3〜t6
t3〜t6
11×16.5
11×16.5B
t2〜t6
t3〜t6
t3〜t6
12×17
SB12×17
t2〜t6
t3〜t6
t3〜t6
13×17
SB13×17
t2〜t6
t3〜t6
t3〜t6