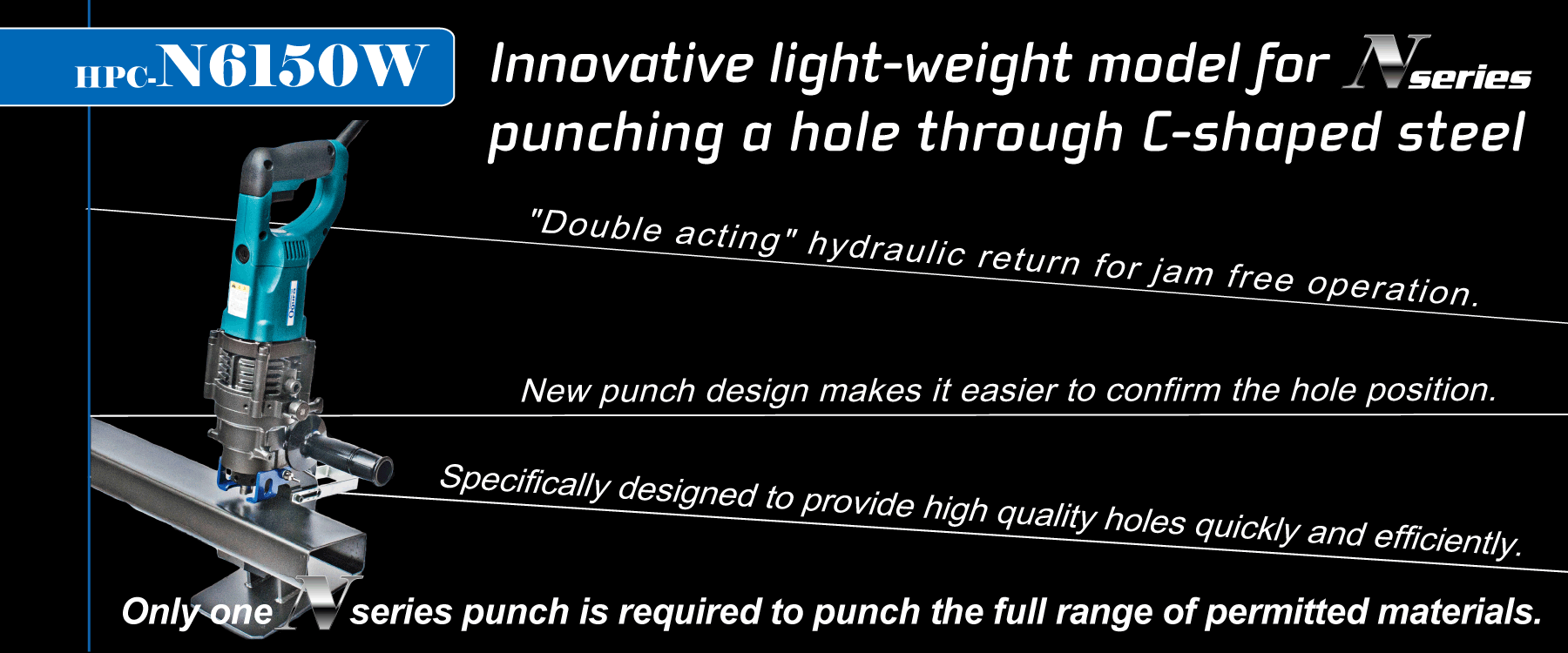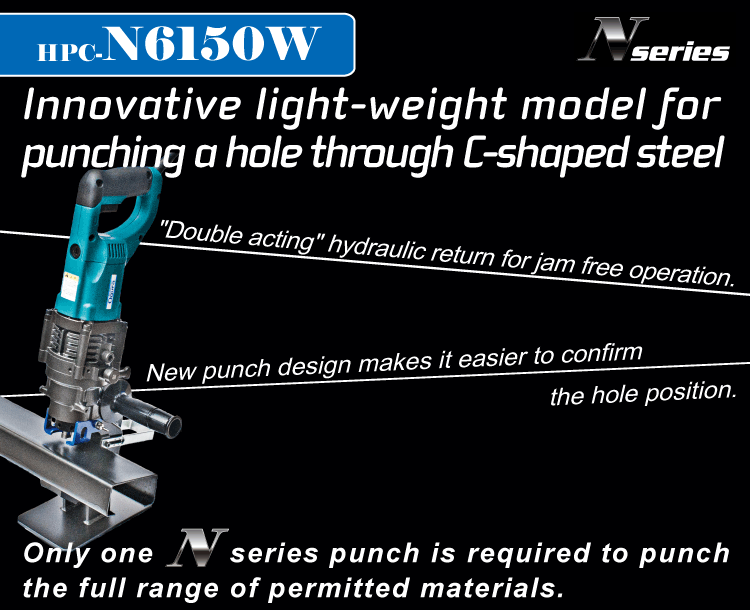 - "N" series puncher for C-shaped steel (Lip Channel)
- "Double acting" hydraulic return for jam free operation.
- Specifically designed to provide high quality holes quickly and efficiently.
- Maximum hole size: φ15 ⁄ t6mm (mild steel)
"N" series is

▲

▲

▲

▲

The new "N" series punchers are double acting with a new designed punch holder for longer life. The "N" series punch has also been redesigned so that only one punch is required to punch the range of materials: mild steel, stainless steel, angle iron and channel steel. The center of the punch has been made wider for easier positioning.


- Both punching and retracting are completed by hydraulic power. This solves the "punch jammed" problem and allows uninterrupted and faster work.
- Following a review by our customers, we changed the design of the die, punch & punch holder to make them more durable and to make the setting of the punch & die easier.
- Only one die for flat bar, angle steel and channel flange is required. It is not necessary to change the die when punching different materials or thicknesses.

※Thinner material (t2-3.2mm) may have some burrs or deformation.

- New punch design makes it easier to confirm the hole position.
Motor
Single-Phase, 110-120V/220-240V, 50/60Hz, 710W, Double Insulation
Weight
11.2 kg / 24.7 lbs
Dimensions
526 (L) x 125 (W) x 306 (H) mm
20.7 x 4.9 x 12.0 in
Max. Throat Depth
50 mm / 1.97 in
Hole Shape
Round / Oblong
Max. Hole Size
Mild steel (65,000 psi): Φ15/t6 mm
Stainless steel (89,000 psi): Φ15/t4 mm
Standard Accessories
punch Φ12 mm, long die LD12SB, tommy bar, spanner (8 × 10), hex wrenches, hydraulic oil, carrying case, grip, strap, long stripper L&R
OTHER INFORMATION
HPC-N6150W
■Materials Dimensions - Punch + Long Die [unit: mm]

Flat Bar

Max. 100 x t6
(center punching)

Angle Steel

Min. 40 x 40 x t3
Max. 90 x 90 x t6

Channel Flange (web)

Min. 75 x 40
Max. 100 x 50

C-shaped Steel (web)

Min. 60 x 30 x 10
Max. 100 x 50 x 20

■Materials Dimensions - Long Punch + Die [unit: mm]

Channel

Min. 75 x 40
Max. 100 x 50

C-shaped Steel

Min. 75 x 45 x 15
Max. 150 x 50 x 20

∗ Please install long strippers when using a long punch.

■Punching Throat - Punch + Long Die [unit: mm]

A: 8.5

B: 50

C: 15

D: 96.5

E: 66

F: 90.5

■Punching Throat - Long Punch + Die [unit: mm]

A: 8.5

B: 50

C: 15

D: 61.5

E: 66

F: 55.5
Punch & Die TABLE
HPC-N6150W
■Round Punch & Die [unit: mm]
| Round Punch | Round Die | Mild Steel | Channel Flange | Stainless Steel |
| --- | --- | --- | --- | --- |
| 6 | SB6 | t2〜t4 | - | t3〜t4 |
| 6.5 | SB6.5 | t2〜t6 | - | t3〜t4 |
| 8 | SB8 | t2〜t6 | - | t3〜t4 |
| 8.5 | SB8.5 | t2〜t6 | - | t3〜t4 |
| 10 | SB10 | t2〜t6 | t7.5 | t3〜t4 |
| 11 | SB11 | t2〜t6 | t7.5 | t3〜t5 |
| 12 | SB12 | t2〜t6 | t7.5 | t3〜t5 |
| 13 | SB13 | t2〜t6 | - | t3〜t5 |
| 14 | SB14 | t2〜t6 | - | t3〜t5 |
| 15 | SB15 | t2〜t6 | - | t3〜t4 |
■Oblong Punch & Die [unit: mm]
| Oblong Punch | Oblong Die | Mild Steel | Stainless Steel |
| --- | --- | --- | --- |
| 6.5×10 | 6.5×10B | t2〜t6 | t3〜t4 |
| 6.5×13 | 6.5×13B | t2〜t6 | t3〜t4 |
| 8.5×13 | 8.5×13B | t2〜t6 | t3〜t4 |
| 8.5×17 | 8.5×17B | t2〜t6 | t3〜t4 |
| 9×13.5 | 9×13.5B | t2〜t6 | t3〜t4 |
| 10×15 | 10×15B | t2〜t6 | t3〜t5 |
| 11×16.5 | 11×16.5B | t2〜t6 | t3〜t4 |
| 12×18 | 12×18A | t2〜t3.2 | t2〜t3.2 |
| 14×21 | 14×21A | t2〜t3.2 | t2〜t3.2 |